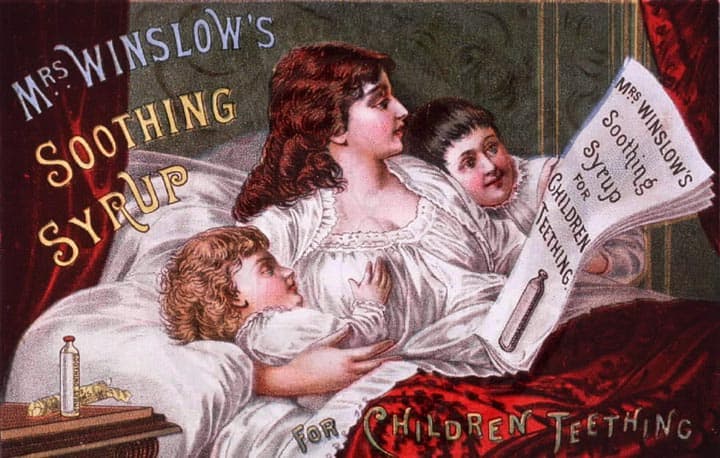 Je weet misschien wel dat er ooit een tijd was waarin artsen hun patienten voorschreven om te gaan roken. Er was ook een tijd waarin kinderen Mrs. Winslows soothing syrup kregen.
You know, there was a time when doctors prescribed their patients cigarettes. There was also a time in which children were given Mrs. Winslows soothing syrup.
Mrs. Winslow was een verloskundige en zijn bestudeerde kleine kinderen en hun pijnen, zoals wanneer ze tandjes krijgen. Zij fabriceerde een middeltje waarvan kinderen rustiger werden. In 1844 gaf ze het recept aan haar schoonzoon, Jeremiah Curtis, die samen met zijn zakenpartner Benjamin A. Perkins (allebei apothekers) her middeltje maakten en verkochten. In 1849 kreeg het product een grote reclame campagne in kranten, receptenboeken, kalenders en het kreeg zelfs zijn eigen verzamelplaatjes.
Mrs. Winslow was a midwife and she studied infants pains, such as when they are teething. She then mixed up some stuff to make these children more soothed and calm. In 1844 she gave the recipe to the son in law, Jeremiah Curtis, who then with his business partner Benjamin A. Perkins (both of them druggists) manufactured and sold the syrup. In fact, the product was widely marketed by 1849 with advertisements in papers, recipe books, calendars and even trade cards.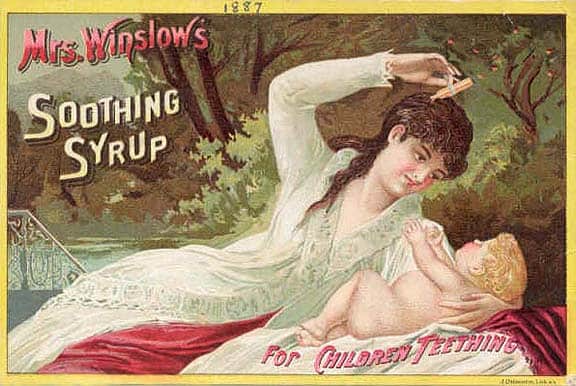 Er werden miljoenen flesjes van verkocht per jaar. Tot in de jaren 1910 het product een nieuwe naam kreeg; de baby killer. In 1911 had een blad van de American Medical Association een blad uitgebracht getiteld 'Nostrums and Quakery" (wondermiddeltjes en kwakzalverij). In een sectie over baby-doders werd ook Mrs. Winslow's soothing syrup genoemd. Hoewel de publiekelijke opinie al snel volgde, duurde het nog tot de jaren '30 voordat het middeltje uit de handel werd gehaald.
The product sold millions of bottles a year. Until, by the 1910s the product had picked up a new name: the Baby killer. In 1911 the American Medical Association put out an issue called 'Nostrums and Quakery" with a section called 'baby killers'. They obviously named Mrs Willows as well. However public opinion soon followed, the product was sold until the 1930s.
Nu, wat zat er in dit syroopje? Weet je zeker dat je het wilt weten? Okee, Morfine sulfaat (jam morfine, als in het heroine achtige middeltje), sodium carbonaat, spiritis foeniculi (iets wat kennelijk alleen in de siroop voorkwam, maar waar wel zeker weten alcohol in zat) en aqua ammonia.
Now, what was in this infamous syrup? Are you sure you want to know? Alright: morphine sulphate (yes, morphine, as in the heroin like substance), sodium carbonate, spirits foeniculi (yes, that is an alcohol), and aqua ammonia.