Nog eentje die al heel lang ligt om te laten zien. Heel lang. Deze maakte ik namelijk in oktober al af. Want in oktober is namelijk mijn lieve zusje jarig. Ik dacht dat zij een lace-sjaal wel mooi zou vinden, dus ging ik opzoek naar een mooi patroontje. Ik vond op Ravelry een patroon met hartjes, speciaal ontworpen ter nagedachtenis aan Elizabeth Zimmermann, een breister die een grote invloed had op het breien, vooral breien in het rond met flexibele rondbreinaalden.
One more that has just been waiting to be shown. For very long. I finished this one in October. Because that is the month of my sweet sister's birthday. I thought she'd like a lace shawl, so I started looking for a pattern that would fit her. I found a nice one, on ravelry, specially designed in memory of Elizabeth Zimmermann, a knitter who had a huge influence on knitting, especialy knitting on circular needles.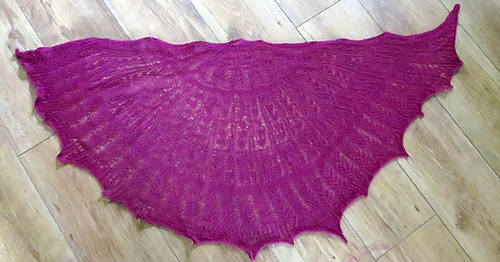 Ik zocht een mooie roze kleur uit (Debby Bliss lace merino - top garen trouwens). En ging aan de slag.
Het was op zich een leuk patroon. Ik had me alleen een beetje verkeken op de hoeveelheid tijd die er in zou gaan zitten. Het helpt natuurlijk niet als je de aanwijzingen verkeerd onthoudt. De sjaal is daarom niet precies zoals het patroon aangeeft. Nog tot de laatste avond ben ik bezig geweest, alleen al het afhechten kostte me ongeveer drie uur.
I sought out a beautiful pink color (Debby Bliss lace merino - very nice yarn by the way) and started. It was a nice pattern to work with. I only miscalculated the amount of time I'd need to finish it. It doesn't help if I remember the directions wrong. That's why the shawl isn't exactly like the pattern states. I have been knitting until the last evening, only casting off took me over 3 hours.
En toen moest ie nog geblockt worden. Op dat moment kwam ik er pas achter dat we niks hadden wat zo groot was waar ik de sjaal op kon blocken. We stonden dus op het punt om naar bed te gaan, dus die konden we al niet gebruiken. Hij is daarom niet helemaal perfect geblockt. Maar goed genoeg om het hartjes patroon mooi te kunnen zien.
And then it needed to be blocked. At that moment I realized we didn't have anything to block such a large shawl on. We were about to go to bed, so I could not use that to block. That's why it isn't perfect. But, good enough to see the pattern of little hearts.
Laatst had ze hem aan. Stond haar prachtig!
She wore it the other day. It looked lovely on her!