Ik kan het natuurlijk niet laten om ook weer eens over eten te praten. Ik vind eten namelijk voor een deel van de vakantie stemming uitmaken. In Spanje heb ik echter altijd problemen met eten, ik ben namelijk vegetariër. De echte Spaanse paëlla is natuurlijk met vis én vlees. En er bestaan echt hele lekkere vegetarische variaties, ware het niet dat deze variaties in de vegetarische noordelijke landen lijken uitgevonden. In Spanje zijn ze niet te vinden. Volgens mij bestaat de vegetarische Spanjaard niet.
I ofcourse can't resist talking about food once more. I think food is a large part of a holiday experience. Though, in Spain I always have trouble with food, because I am a vegetarian. Real Spanish paëlla for instance is with fish and meat. There actually are a few great vegetarian versions, though it appears these variations seem invented in the northern countries. In Spain they seem to not exist. I think there is no such thing as a vegetarian Spanish person.
Iets anders typisch Spaans zijn natuurlijk de tapas. De oorsprong van de tapas is nog steeds onderwerp van discussie. Maar de Sevillanen zeggen dat dit gebruik bij hen in het zuiden ontstond, omdat met de warme temperaturen daar tijdens het drinken van een glaasje sherry vliegen aangetrokken werden. Om dit te voorkomen werd op het glas een stukje brood gelegd, als een dekseltje. Naar verloop van tijd kwam er wat beleg op dit brood.
De bedoeling van tapas is om lang en langzaam gezellig met elkaar te eten. In tapas restaurants worden de tapas dan ook meestal achter elkaar besteld en niet, zoals in Nederland vaak het geval is, in één keer. Wat me in Spanje wel opviel is dat alle tapasrestaurants anders in elkaar zitten. In Barcelona troffen we een klein, bomvol cafeetje waar op de bar allerhande hapjes stonden die je zelf kon pakken (met wat elleboogwerk). In elke tapa zat een satéprikker. Aan het einde leverde je je bordje in, werden deze prikkers geteld en rekende je aan de hand van dit aantal je eten af. In een ander restaurant, ook in Barcelona, zat je aan een tafeltje en bestelde je je tapas aan de hand van kleine afbeeldingen op je placemat. In andere restaurants staan tapas gewoon op de menu kaart. Het aantal toeristen dat in zo'n café of restaurant komt, is volgens mij ook een grote invloed op de manier waarop er met de tapas wordt omgegaan. Maar altijd staat centraal: lekker eten en drinken, in goed gezelschap en vooral zonder haast.
Something else that's typically Spanish are ofcourse tapas. The origin of the tapas are still subject of debate. But in Seville they say the tradition started in the south, because of the hot climate, the sherry they drank attracted a lot of insects. Therefore they started putting a bit of bread on top of the glass, like a cap. After a while they started all kinds of things to this bread, just because in Spain they like good food.
Tapas should be eaten slowly and over a long time, and to spend quality time together. In tapas restaurants it's usually custom to order tapas one after another and not, like they do in tapas restaurants here, all at the same time. What surprised me while being in Spain, is that most tapas bars work different from another. In Barcelona we once stumbled into a bar where you get to take your own tapas from the counter. In every tapa there is a skewer. When you're done you hand in your plate, they count the skewers and that number is the amount you pay. In another restaurant, also in Barcelona you got to sit down at a table and order your tapas one by one from the placemat under your plate. In other restaurants you just order from a menu. I think it does matter how many tourist use the restaurant. But it is always important to eat good food, enjoy and take your time.
Nog zo'n Spaanse eettraditie, en wat minder bekend in Nederland, zijn de churros (con chocolate). Dit zijn gefrituurde deegslierten die men het liefst in een erg chocoladige chocolademelk doopt. Het schijnt dat voornamelijk oma's met hun kleinkinderen op zondag ochtend churros gaan eten. De eerste keer in Sevilla kwamen wij vaak langs een café dat churros aanbood. Maar toen we daar tegen de middag binnenstapte, werd ons verteld dat de churros alleen voor ontbijt waren, wij waren te laat. Uiteindelijk kwamen we de dag erna een klein stalletje tegen dat grote puntzakken verkocht, bijna alsof het friten waren. De tweede keer in Sevilla was ik dus gewaarschuwd dat churros echt alleen 's ochtends te krijgen waren en ontbeten we met een klein broodje om vervolgens om 11 uur ons vol te stoppen met deze zalige vettigheid. Dit café was in één woord geweldig. Aan de bar localities, iedereen kende iedereen. Achter de bar een man, een beetje dikkig met zo'n vale witte theedoek over zijn schouder. Ergens achterin een kok die volgens mij alleen maar de hele ochtend churros aan het bakken was. Communicatie tussen deze twee medewerkers bestond voornamelijk uit schreeuwen.
One other very Spanish eating tradition, and less known in the Netherlands, are churros (chon chocolate). These are fried dough strings, which are to be dipped in a very chocolaty hot chocolate. They say especially grannies with their grandkids eat churros on sunday morning. The first time I was in Sevilla we wanted to eat some. There was a café we used to pass, that had a sign saying they served churros. When we stepped in, somewhere around noon, they told us we were to late, because churros were only for breakfast. The next day we ren into a cart that sold churros in large, pointy bags, a bit like they sell french fries over here. The second time in Sevilla I knew the drill. So we had a very light breakfast so our stomach's could handle the food at eleven. This café was really cool. At the counter were sitting a lot of localties. Everyone knew everyone. Behind the counter a man, a bit heavy, with a vale white towel on his shoulder. Somewhere in the back a cook, that -I assume- only made churros the entire morning. Communication between these two employees only happened through yelling.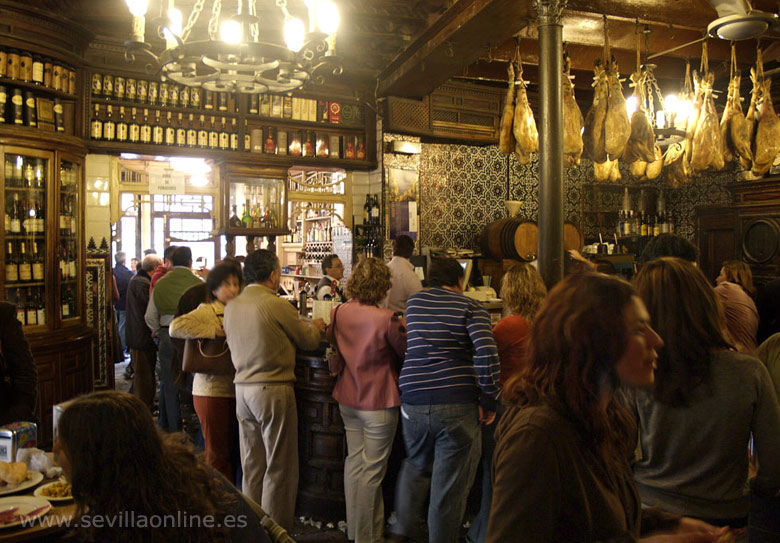 Thuis heb ik een aantal keer geprobeerd om churros te maken, maar dit was nooit echt zoals het hoort. Misschien ligt het aan het Nederlandse klimaat, want die churros die je tegenwoordig in kraampjes op de markt kunt kopen vind ik ook niet smaken zoals het moet.
I have tried to make churros at home several times, but I never managed to get it the way it should. Maybe it's because of our Dutch climate, because the churros you get at these carts on the market place here also doesn't taste the way it should.
Meer weten? Culinaria España van de Culinaria reeks van Köneman is zeker aan te raden.
Foto's zijn overigens allemaal niet van mij. All pictures aren't mine.