Het duurde tot 2000 totdat we een computer kregen met internet. Daarvoor hadden we altijd gebruik gemaakt van een heel oude computer. Eentje met een zwart-wit scherm (of eigenlijk bruin met geel) en die liep op MS DOS. Die computer kon ook geen muis aan. Eigenlijk was het een soort digitale typemachine, met het voordeel dat er wat geheugen op zat (en een floppydisk en diskette lezer).
It wasn't until 2000 that we got a computer that had internet. Before that we had always used an very old one. One that had a black and white screen (or actually brown and yellow) and ran on MS DOS. That computer couldn't handle a mouse either. Basically all it was was some kind of digital type writer with the advantage of having a memory (and a floppydisk and diskette reader).
Type your way through the menu with MS-DOS, how
cool.
Ours looked just like this one.
From: www.computermuseum.nl
Tot een van de vrienden van mijn ouders het voor elkaar kreeg om er voor ons wat spelletjes op te zetten. Onze favoriet was Digger. een spelletje met een robot-achtige krokodil waarmee je alle diamanten moest eten voordat een klein, vreemd kikker-achtig ding tegen je aan liep. Er waren paadjes, maar je kon ook zelf paadjes bijmaken. Die kikkerige dingen konden dat dan weer niet.
Until one of my parents' friends was able to install some games for us. Our favorite one was Digger. A game that featured a robot-like crocodile with which you had to eat all diamonds before little weird frog-like things would hit you. There were pathways, but you youself could make paths yourself. Those frog-things couldn't.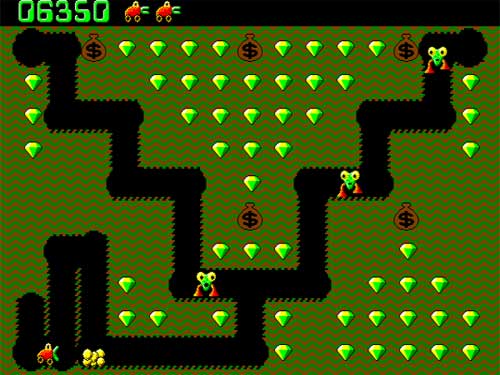 Digger. And yes, it's original apparently is in color.
Er was ook een spel Alley Cats, dat we wel speelden, maar ik geloof niet dat ik helemaal heb begrepen wat de volledige bedoeling was van het spel. Maar, het bestond uit een aantal mini-spelletjes die allemaal wel leuk waren om te doen.
There was also a game called Alley Cats, that we'd play, but I think I never really understood the full purpose of this game. Though it consisted of a few mini-games which were all fun to do.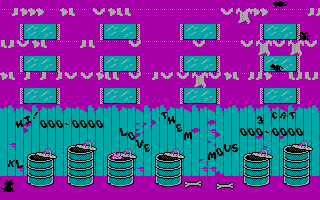 Argh those colors..It hurts my eyes... Maybe it was for the
best we could only see this in brown and yellow. This is
Alley Cats, by the way.
Die computer, oud als die was, zelfs voor de jaren '90, verhuisde naar mijn kamer op het moment dat we die nieuwe kregen. En ik gebruikte hem veel, om verhaaltjes op te schrijven. Ik denk dat die allemaal niet meer bestaan. Maar, ik heb nog steeds geweldige herinneringen aan die computer. It was gewoon mij met WordPerfect, tegen de wereld. En, zonder de afleiding van iets als Facebook of e-mail.
That computer, old as it were, even in the '90s, moved up to my room once we got a brand spanking new. And I used to write lots and lots of stories on it. I think they're all lost by now. Though I still have some loving memories of that computer. It was just me an WordPerfect, against the world. And, without the distraction of something like Facebook or e-mail.