Zoals beloofd zal ik deze hele week het over de jaren 1990 hebben. En vandaag wil ik het hebben over Disney films. Okee, Disney gaat al wat langer mee. Het is niet is speciaal uit de jaren '90. Maar voor mij, in die periode uit mijn leven, draaide het allemaal om de nieuwe Disney films die uitkwamen. Ik denk dat 90 procent van alle films die we hadden Disney films waren. En het stopte daar niet bij. Ik was (en ben nog steeds) een enorm fan van de films Belle en het Beest (premiere in 1991) en Aladdin (premiere in 1992). We keken die films telkens weer. En we verzamelden vanalles wat daarmee te maken had: kleding, glazen, boeken, muziek. Ik deed mee met het sparen van speciale stickers die je kon kopen en die je in een boek moest plakken waarbij je dus alle plaatjes moest verzamelen die bij het verhaal hoorden. Mijn moeder heeft voor mij ooit eens een Belle en het Beest feestje georganiseerd, waar ik een jurk droeg met rozenmotieven en dat rozenknoopjes had. Ik had ook een broche met de afbeelding van Belle hierop gestoken.
As promissed, I'll talk all week about the 1990s. And today I'd like to talk about Disney movies.
Okay, Disney has been going on for a long time. Not just the '90s. But for me, during that period of my life, it was all about those new Disney movies that came out. I think 90 percent of all movies we owned were Disney movies. And it didn't stop there. I was (actually still am) a huge fan of the movies Beauty and the Beast (premiered in 1991) and Aladdin (premiered in 1992). We'd watch those movies over and over and over again. And collected items that had images from those movies: clothing, glassware, books, music, Barbie dolls. I started collecting stickers, which you could also stick in a special book to tell the entire story in stills. My mother once threw me Beauty and the Beast birthday party where I wore a dress with rose motives and has little buttons on them that were roses. I also had a broche with Belle's image pinned onto it.
Beauty and the Beast
Afgezien mijn voorkeur voor Belle en het Beest (en Aladdin het jaar erna), gingen we -en met we bedoel ik ongeveer iedereen om me heen: ons gezin, vrienden en familie- elke nieuwe film zien en ik denk dat ieder van ons zijn eigen favoriet had. Wie kan het ons kwalijk nemen? Disney is, nog steeds, erg cool. Ze maken films die iets...iets...iets speciaals hebben. Ze hebben het gewoon. Ik kan nog steeds alle Nederlandstalige liedjes van De Leeuwenkoning zingen, die ik uit mijn hoofd leerde samen met mijn vriendinnetjes. Ik kan nog steeds huilen als Dombo alleen nog geschommelt kan worden in de slurf van zijn moeder. En ik droom nog steeds van de bibliotheek uit Belle en het Beest of van zo'n enorm bal, waar ik dan zo'n prachtige gouden jurk mag dragen.
Despite this preference for Beauty & the Beast (and Aladdin the year thereafter), we - and by we I mean almost everyone around me: family, friends, relatives -would go and see about every new movie released and I think every one of us had our own favorite. And who can blame us? Disney, still, is very cool. They make movies that have something...something... something special. They just have it. I can still sing all (the Dutch versions) of the Lion King songs, which I used to memorise by heart with my girlfriends. I can still cry when Dumbo can only be rocked in his mothers trunk. And I still dream of the Beauty and the Beast library or the balls, while wearing a splendid golden dress.
Wacht maar af totdat ik koning ben. "Niemand zegt doe
dit, niemand zegt geef
hier, niemand zegt laat dat,
niemand zegt kom hier..." :-)
Tegenwoordig zijn er andere aspecten waar ik naar kijk als ik de films zie. Ik houd bijvoorbeeld erg van Sneeuwwitje en de zeven dwergen vanwege zijn verouderde moralen en liedjes. Ik adoreer de Winnie de Pooh films, vanwege zijn lieflijkheid. En ik houd van de liedjes die gebruikt worden in Junglebook (Louis Armstrong), Lady en de Vagebond (Peggy Lee) of het algemene jazz-thema uit de Aristokatten. En laten we niet de humor vergeten, die ook voor grote mensen grappig is.
Nowadays there are also other features that I consider while watching those movies. I for instance love Snow White and the Seven Dwarves because of the obvious outdated morals and songs. I adore the Winnie The Pooh movies, because of it's cuteness. And I love the songs used in The Jungle Book (Louis Armstrong), Lady and the Tramp (Peggy Lee) and the overall jazz-theme in the Artistocats. And let's not forget Disney's humor, that's also funny for grown-ups.
Ik denk nog steeds dat de jaren '90 Disney films de beste zijn die zijn gemaakt. Misschien alleen omdat het zo'n groot deel uitmaakt van mijn opvoeding.
Still I think all the '90s Disney movies are the best ever made. Maybe only because it's such a big part of my upbringing.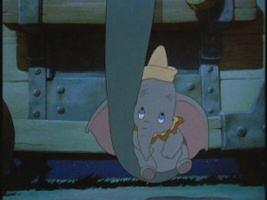 Dumbo