Zo groot als de wereld is, zo divers is de muziek die op deze wereld bestaat. In Musical Monday probeer ik een stukje van mijn wereld te laten zien, door muziek. Mijn muziek. Muziek die iets bij mij teweeg brengt. As large as the world is, as diverse is the music that exists in this world. In Musical Monday I will try to show a piece of my world, with music. my Music. Music that moves me.
Eén bijzondere jazz-diva waar ik vandaag over wil schrijven is Peggy Lee. Ze werd geboren als Norma Doloris Egstrom. Ze liep weg van haar stiefmoeder toen ze 17 was. In 1941 zong ze bij de band van Benny Goodman, waar ze twee jaar bleef tot ze solo ging. Haar eerste hit had ze in 1942, getiteld
Somebody else is taking my place.
Naast zingen schreef ze ook muziek en was ze actrice. Peggy Lee overleed in 2002.
One very special jazz-diva I'd like to write about today is Peggy Lee. She was born as Norma Doloris Egstrom. She ran away from her abusive stepmother by the age of 17. In 1941 she joined Benny Goodman's band, where she stayed for two years before going solo. Her first hit was in 1942, called
Somebody else is taking my place.
Besides singing she also was a songwriter and an actress. Peggy Lee died in 2002.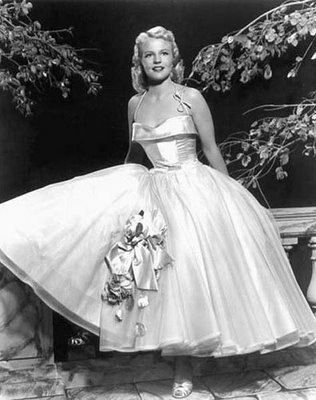 Voor mij is de muziek van Peggy Lee zowel tijdloos en tegelijkertijd geeft het een geweldige impressie van de mid 20ste eeuw. Liedjes als He's a tramp voor de Disney film Lady en de vagebond of haar lied Fever laten zien hoe goed haar sound nog steeds in onze eeuw past. Terwijl een liedje als Black Coffee gewoon jazz-perfectie is en mij bovendien kippenvel bezorgd elke keer als ik het hoor.
For me, the music from Peggy Lee is both timeless as it gives a lovely impression into the mid 20st century. Songs like
He's a tramp for the Disney movie The Lady and the Tramp or her song Fever show how well her sound still fits in our age.While a song like Black Coffee is just jazz-perfection and gives me goosebumps everytime I hear it.
Peggy Lee, why don't you do right